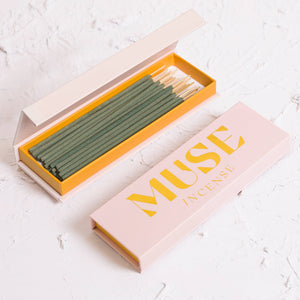 1 box contains 30, 6" incense sticks with an approx burn time of 25-30 minutes per stick.
Made with natural ingredients and scented with essential oils.
Presented in a pink & orange box with magnetic closure and gold foiled logo. Frankincense is green, dragon's blood is pink, jasmine is pink, nagchampa is brown, ylang-ylang is yellow. – ethically made in India. ~ non-toxic. – cruelty-free. ~ naturally scented with essential oils. NB: Colours may slightly vary due to the incense being made in batches.